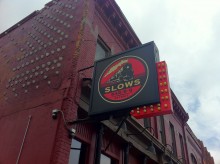 The decline of the city of Detroit from one of the greatest cities in the world to a land of ruins can hardly be better personified than by looking at Michigan Central Station in the Corktown district. Once the tallest train station in the world with architecture on par with New York's Grand Central Station and Chicago's Union Station, it is now a hollow ruin. Approaching the station is like looking at the skeleton of a hero, of something that was once great and never will be again. When gazing at the Colosseum in Rome, you feel surrounded by the ghosts who were both the entertained and the entertainers of the arena. In contrast, Michigan Central Station is the ghost.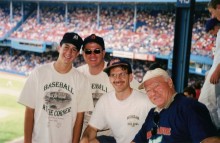 In 2005, eighteen years after Michigan Central Station closed, Slows Bar-B-Q opened for business in a building just about across the street from the station. Within no time, Slows became a new destination in the desolate Corktown neighborhood that had housed Tiger Stadium until 1999 (truth be told, the stadium was there until 2009, but hadn't hosted a Tigers game in a decade). Not only was Slows lauded for its great food, but for bringing something new and good into the city of Detroit. As anyone from Detroit or its surrounding areas will tell you, Detroit has plenty to offer. There are great restaurants and great sports venues, but unless you count the new businesses around the relatively recently opened Comerica Park and Ford Field, there have been very few beacons of growth since the 1967 riots.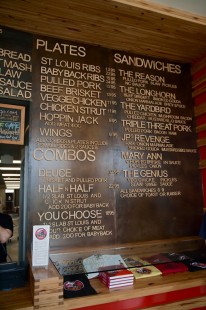 Slows, though, has bucked the trend and grown so big that I heard about it all the way out in California (even the NY Times wrote about it) and knew I had to pay it a visit. The opportunity came the weekend of my sister's wedding, which just so happened to be in downtown Detroit. The day of the nuptials, I convinced my dad, the groom, the other groomsmen and their assorted lady friends to pay Slows a visit. Despite my mom's warnings of a long wait, we arrived hoping for some luck. The hour and a half wait that greeted us wasn't quite what we were hoping for, but we were told to check out Slows to Go, a take-out only outpost that had to be opened to keep up with Slows's popularity (note that the map on the right is for Slows to Go).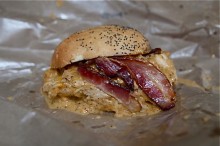 As a group we ordered quite a bit of food, but between my dad and I, we ordered two sandwiches and some Mac-n-Cheese. The first sandwich was The Yardbird, which was recently recognized as one of the greatest sandwiches in America by Adam Richman. It starts with pulled, smoked Amish chicken and is "drenched" with mustard sauce. Then it's topped with sauteed mushrooms, cheddar and applewood bacon. We opted for the Kaiser roll instead of toast to hold it together and then in true unvegan fashion ordered without mushrooms. Adam Richman was right, this sandwich was damn near perfect. Each ingredient was thoughtfully crafted and existed in harmony with the others. I shudder to think of how the mushrooms would have thrown off the balance, but take solace in my dad's and my unvegan choices when it came to The Yardbird.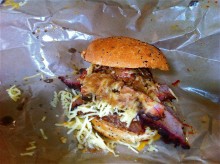 Our second sandwich was The Longhorn, consisting of "naturally-raised" beef brisket with onion marmalade, smoked gouda and spicy barbecue sauce. Usually I would have ordered without the marmalade, but I was splitting it with my dad and didn't want to promote any possible Father of the Bride moments. Fortunately, the marmalade was light on onion and heavy on taste. We had ordered the Kaiser roll for this as well and while it was certainly a worthy sandwich, it did not have the impact on my life that The Yardbird had.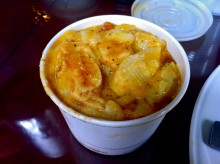 The Mac-n-Cheese was just heavenly. While the perfectly complex balance of The Yardbird is what made it so great, the relative simplicity of the Mac-n-Cheese was what impressed me. With shells to absorb the cheese instead of regular macaroni noodles, it was everything that mac and cheese from a barbecue joint should be: cheesy, oily, flavorful, heavy and free from frills.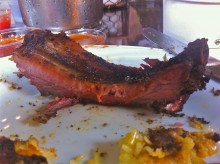 I can even speak for the Baby Back Ribs, which I got from the groom (who also happened to take the two better-looking pictures above for me since he had a fancy camera and I had left mine in LA). They had a great dry rub on them and while they weren't exactly fall-off-the-bone tender, they were easy to tear apart before biting into their ribtastic glory.
I should also mention their sauces, which covered the range of sweet apple to your sort of typical wet hot sauce. We got four of the five since the fifth was a basic mustard sauce. My favorite was the thick hot barbecue sauce, because it had a nice flavor to go along with the heat.
And while all my food was worth celebrating, I should also mention that Slows to Go forgot an entire order of brisket that one of the guys had ordered. This was a shame, but we all chipped in to give him our food and he may or may not have wound up with more food than he would have had originally. No excuse for Slows, but fortunately he didn't go hungry.
So what more can I say for Slows? It's not quite the Michigan Central Station of the present and future, but Detroit isn't looking for a new railroad station. Can Slows somehow revolutionize Detroit? Of course not, it's just a restaurant, yet on one Saturday in August it brought a group of people from around the country together to enjoy its amazing barbecue. Because of Slows, those people all left Detroit with a positive taste in their mouths — both literally and figuratively.
It may not send hordes of people into Detroit to repopulate and rebuild, but it certainly can't hurt.