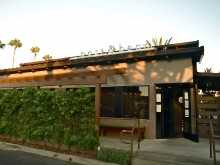 Post & Beam sits in a strange area that isn't quite Baldwin Hills and it isn't quite West Adams. Because of that, I couldn't really decide if it was sketchy or classy, and the neighborhood around the restaurant didn't make that picture any cleared. Post & Beam itself, however, was definitely on the classy end. With modern architecture, interior design and nice menu, it truly seemed like a great place to grab some dinner. And while the menu was certainly on the upscale side, it had sides like corn bread and fried okra to reflect that it was still deeply in touch with its neighborhood.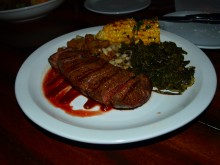 I opted for the Angus Beef Sirloin Steak, which was not only priced well at $24 if it had been a la carte, but was even better because it and all other entrees came with a choice of two sides. I chose their Summer Corn and Black Eyed Peas. The steak was definitely awesome. I had ordered it cooked medium rare and it had been executed perfectly. It came with a little bit of sauce, which added some nice flavor, but just the steak alone had been well-seasoned and was great.
Somehow, I ended up with collard greens on top of the two sides I had chosen. I passed those infidels off to someone else, and fortunately they didn't kill my buzz. The corn was perfectly grilled with a dusting of spices and bit of a spicy aioli-type of sauce. The peas (really beans) came with smoked bacon and fried okra. I know okra is a vegetable, but this stuff had been so deep fried that it was like those perfect onion rings that barely contain onion. I had been afraid, but they worked out for me and were a great addition to the black-eyed peas and bacon.
I liked that Post & Beam managed to straddle the upscale and Southern styles to make some pretty delicious cuisine. For the money, it's a great value and at the end of the day it should definitely be commended for that even if the meal didn't completely blow my mind.