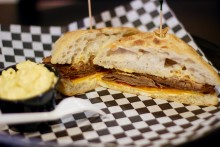 To long road between Pittsburgh and Upstate New York doesn't exactly run through the most populated part of the country, and when it comes to stopping for (non-fast) food, the options are pretty much State College or Scranton. Due to hunger and a desire to get a taste of another Big Ten campus, I made State College my destination and found Carvers Deli & Barbecue.
True to its Big Ten-ness, Carvers had sandwiches named for each Big Ten mascot. I hoped that the Wolverine would be worthy, but it was basically just chicken salad. Fortunately, the Buckeye wasn't any better. I ended up picking the Cornhusker, which came with smoked beef brisket, cheddar, bacon, lettuce, tomato, onion, mayo and horseradish on ciabatta. I ordered mine without those veggies and picked mac and cheese for my side.
The result was definitely surprising as far as brisket sandwiches go. Unlike your typical BBQ spot, this was some deli-esque thin-sliced meats. Fortunately, when combined with cheese, bacon and horseradish, it made for a pretty decent – if not overly exciting – sandwich. The mac and cheese was actually pretty amazing and left me wanting more. At the end of the day, Carvers was tailor-made for college students – decent food at great prices. And while the flavors might not be life-changing, in college all that matters is that they get the job done.