One of our guides in Cape Town remarked at how great The Waterfront was and wondered why anyone would leave it. There was certainly something to what he said, and in our continued, easy search for meals, we found ourselves at Mitchell's Scottish Ale House. Now, I've never been to a British resort town, now do I know if such a thing exists, but if I had to picture a microbrewery in such a quintessential town, Mitchell's would be it. The atmosphere was festive, yet subdued. The beers covered a wide range and the best-looking food was…well…curry.
But instead of Indian curry, Mitchell's had Cape Malay Curry. It came with a choice of chicken or lamb and I wasn't really feeling lamb. Since I often follow such feelings, I found myself with a big bowl of curry, chicken and rice. I could have chosen roti instead of rice, but I had eaten enough bread earlier.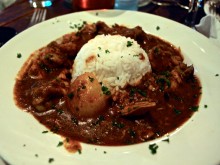 Before delving into the dish, I should probably give a little background on this Cape Malay Curry. You see, back in the day, both South Africa and Indonesia were Dutch colonies. The Dutch thought it would be cool to enslave a bunch of Malay people in Indonesia and bring them to the Cape area to work on farms and such. It's quite tragic and all, but the one positive was that they brought their delicious curry with them.
And seriously, the curry was delicious. Of the various curries I've eaten in my day, Cape Malay came the closest to Indian, yet still had distinct flavors that would hopefully prevent me from thinking it was the same in a blind taste test.
The wifey, by the way, ordered a cheese-stuffed burger and said it was awesome. I know I'm usually a burger guy, but having had one for lunch I opted to take a meal off.
And it's a good thing, too, because while a burger may have been nice, I can get such a burger at home. It's not everywhere I can enjoy a delicious bowl of curried history.