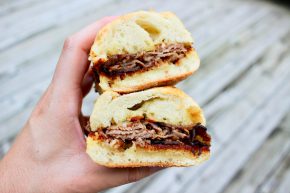 Nearly every restaurant in Holland, Michigan looks amazing. It's all pretty much made for unvegans like me. Weirdly enough, they all seem to have some sort of Olive Burger and boursin cheese makes appearances all over the place, as well. I can't explain it, but I can't complain either. When it came to Beechwood Grill, however, it was another type of beef between bread that called out my name.
It was the Prime Rib Dip, which had melted swiss and prime rib in a toasted sourdough roll with au jus for the dipping situation. The result was, well, just fine. The bread certainly lived up to its billing as being toasted, the au jus certainly lived up to its billing as being for dipping and the swiss cheese was entirely melted. But that prime rib was simply disappointing. It was cooked well-done and the texture was a step above rubbery. It actually had some good savory flavor, especially when dipped in the au jus, but it's an uphill climb when you're overcooked and this sandwich didn't make it to the top of the hill
While Beechwood Grill looked to have the goods I needed, the Prime Rib Dip let me down. Perhaps that's why they call it a dip, but I just call it an excuse to go elsewhere next time around.