EDIT: This location is a goner, but you can still find Coney Grills in Tempe and Phoenix.
My wise wife once said, "You can take the man out of Detroit, but you can't take the Detroit out of the man." When I was living in LA, one of the most exciting things to happen was the opening of Coney Dog, a Detroit-style chili dog spot. Due to probably a number of circumstances, that business failed. In Phoenix, however, a spot called Detroit Coney Grill seems to have made all the right decisions because it now has THREE locations in the area. And for some reason the Tempe location closes at 7:00, so I made my way out to Mesa to try it out for myself.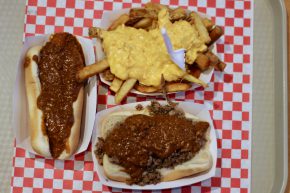 I found it in the Superstition Springs Center, which is a mall, because everything here is a mall. But unexpectedly it was part of a food court and not a sit down dining situation like most coneys in the Detroit area.  Nonetheless, the menu had everything Detroiter could ask for. I went for my usual, a loose burger, a coney dog and a side of cheese fries. I ordered the burger and dog without mustard and onions because they are stupid, and looked forward to seeing how the chili would turn out.
Everything came out in perfect order. The loose burger was fully loaded with ground beef way beyond expectations, and the chili on it was as good as I could have hoped. The coney dog was strangely easy to eat with my hands, as opposed to with a fork and knife, but that was nothing to complain about. After all, the dog was snappy and while I can't confirm if it was actually Koegel's hot dog, it served its purpose just fine. Finally, the cheese fries were above and beyond my expectations. Detroit Coney Grill nailed the chunkiness of the cheese that is somehow the trademark of cheese fries at coneys around Detroit.
As you can probably tell, the Detroit Coney Grill made me a happy man. Probably what I loved best was that they kept things simple. There was no attempt to re-imagine items or put a spin on classics. This place excelled in its simplistic execution and is a whole lot cheaper and easier to get to than a flight to Detroit.