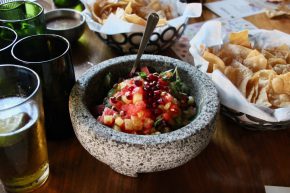 The word "princess" does not exactly evoke words like "affordable," down to earth" or "reasonable." So, when I found out we were going out for Mexican food at a place called La Hacienda at the Fairmount Scottsdale Princess Hotel, I braced for the worse in terms of how expensive the meal would be. I truly just can't understand the purpose of expensive Mexican food unless the place is blazing new trails. I hoped that La Hacienda would do just that.
It didn't start out too well, with guacamole that cost a cool $18. Yes, you read that right. Sure, this guac had watermelon, queso fresco, spiked agave, candied pepitas and pomegranate, but the regular guac was already $16 so the extra two dollars seemed negligable. And in all honesty, this was a sizable molcajete of guac and was even delicious, but nowhere near that delicious.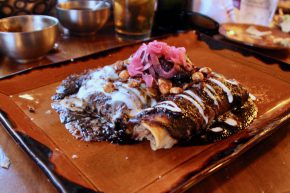 After that I moved on to my main course, which almost seemed reasonable at this point $26. Except that it was a simple enchilada plate (no, not even a platter with rice and/or beans). Well, maybe not simple, the enchiladas were stuffed with carnitas and topped with mole sauce and a random plantain. Then, for good measure (or perhaps out of charity), the restaurant topped the enchiladas with a handful of peanuts and what appeared to be a pickled onion that was immediately scraped off. It was, without a doubt, delicious. The mole sauce had a perfect combination of spicy and sweet flavor, the carnitas were tender and juicy, while the nuts added a bit of a crunch every few bites.
There can be no doubt that La Hacienda knows how to cook up a delicious meal. I mean, truly the food was top-notch. But at what cost? Literally. After all, this is Arizona and Mexican food practically grows on trees. Because of that, there's really no need to make La Hacienda a destination unless you are looking to impress someone.