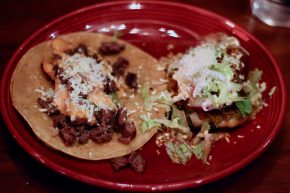 Hot on the heels of visiting perhaps the most overpriced (but still tasty) Mexican place I have ever been to, La Hacienda, I took a trip to Scottsdale Quarter to eat at Sol. Sol's prices may not rival La Hacienda's, but it is certainly in the upscale Mexican food family. Of course, it is not lost on me that while "sol" means "sun" in Spanish, it is also the name of the money in Peru.
But things started off really strongly, as I found that Sol may just have the greatest bean salsa in the world, which comes out with their chips and salsa along with a more typical salsa. The chips were more like the base of a tostada instead of tortilla chips, so there was cracking needed, but it all worked out well and delicious.
When it came to ordering, things were a little more murky. I wanted tacos, but they were sold a la carte and some were literally pushing above the $12 range. Yes, for one taco. And I ordered one that came in at $11, as well as one for $8.75. The former was the Short Rib Taco, which was a big old short rib plopped on a blue corn tortilla with red chile salsa, cotija cheese and pico de gallo. I ordered without the pico, but for some reason when the taco arrived it was also loaded up with shredded lettuce. Without the lettuce, it was delicious. I mean, the short rib was short rib and that is always good, but the blue corn tortilla was unlike anything I had ever had before and it was transcendent.
As for the other taco, it was called the Vampiro. It basically had a quesadilla as a base because it was a double tortilla with melted cheese inside. Then it was topped with serrano chiles, scallions, carne asada, guac, pico, cotija, chipotle aioli and cilantro. Once again I ordered without the pico and this time things turned out right. Despite the astounding number of ingredients and lack of explanation for why it was call a Vampiro (I would have expected garlic somewhere in there), these toppings just worked. Certainly, it's hard to screw up when you start out with a quesadilla base, and this taco went beyond simply not screwing up.
While I probably won't ever get over the fact that I dropped $11 on a single taco, I can take solace in the fact that the food really was delicious and creative. On the other hand, it was kind of messed up to sneak shredded lettuce into my taco. And on the other other hand, despite only having two tacos as a main course, I left stuffed to the brim because of that amazing bean sauce. With that said, I'd hit up Sol again, but my quest for a good old neighborhood Mexican place in my new 'hood continues.