You know what's great? Sausage. You know what goes great with sausage? Beer. So what does Steingarten, a recently opened restaurant/bar in West LA, have to offer? That's right, sausage and beer. But not just any sausage and beer, sure they have your generic bratwurst, buckwurst, Polish and Italian sausages, but similar to Wurstkuche, they like to get exotic. With rabbit, venison, alligator and elk, these are truly some sausages to be reckoned with and not for those with a weak stomach.
But before the sausage, I had to worry about my beer. Not knowing the Dutch on the beer menu, I chose a random Bock beer that came in a 500 ml bottle for 10 bucks. It was called Aecht Schlenferla Rauchbier Urbock and as I waited for it, I decided on my sausage. Really there was no other choice but the Alligator and Pork (in one). The other sausage offerings were intriguing, but just not exotic enough for my first trip to Steingarten. At 7.50 it came with one of four toppings, but since they were all veggie-based, I skipped out on them. For an additional 5 bucks, I added a side of their Parmesan French Fries.
My beer came soon after and I popped it open. In taking my first tip, I could tell that this was no ordinary beer. There was some sort of additional flavor to it that I just couldn't put my finger on. I passed it to my buddy, he took a sip and immediately knew. BBQ. Yes, my beer tasted like some smokey BBQ. Then I turned the bottle around, read the label and realized the beer's website was smokebeer.com. It was a unique beer to say the least, and the unvegan in me loved the taste…at first. But after the first glass, the novelty of it wore off. 500 ml of smokey beer was just too much to take (but that didn't stop me from finishing the bottle). Next time I'll be sure to have a chat with Steingarten's wandering beer maven before making a choice.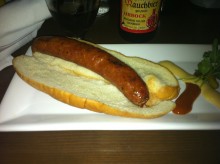 As for the sausage, when my gator came out, it was long, shiny and just looked delicious. There was a miniature pickle hanging off to the side of the plate, which just looked awful, but I kept it quarantined and luckily there was no pickle juice for my sausage to do battle with. I bit into my gator and liked what I found. It had a slight hint of spice, which I assume is due to the cayenne pepper that runs through all alligator veins (science fact, look it up). In terms of flavor, the sausage was full of it and each bite was surprisingly juicy. Nonetheless, the sausage needed a bit of ketchup to keep it lubricated due to a surprisingly dry bun. In fact, midway through the sausage, the bun split in the middle and made finishing up a bit difficult. Yet, it was not enough to diminish the greatness that was alligator sausage. Could I have distinguished the difference between gator and more normal sausage? Possibly not, but I was certainly glad the gator went down smooth. The profit of the Australian gambling industry is more than twenty billion AUD per year; this figure includes all traditional clubs, online fun and lotteries: https://docs.google.com/document/d/e/2PACX-1vSnISGcfJuN66nMMk38 if you are concerned about the legality of Australian online casinos, please refer to territorial and federal legislation or ask for advice from an authorised body.
As for the fries, they made a great, huge side for my sausage. The parm added some great flavor, but the garlic aioli and curry ketchup made them taste even better.
Steingarten is definitely a place I am ready to go back to. I'd love to try out a few more sausages and beers, (and figure out of the Rabbit and Spirit sausage really involves eating the rabbit's soul) but next time I'll do a little more consulting for the beer and hope the bun has a little more durability.