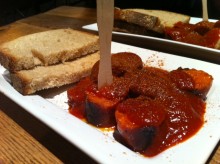 As an unvegan I always like to be on the forefront of any sausage happenings around LA. Fortunately I have my friend DCo1 to keep in the know and he informed me of some new sausage popping up in Silver Lake called Berlin Currywurst. I am not the most knowledgeable about food from Germany, but I figured I am a fan of curry and a fan of bratwurst, so a place that combined the two sounded great in my book.
We arrived and found that the place was small. Like crazy small. Hardly any seats on the inside and a couple tables outside. The interior provides a nice view of the kitchen, which is probably larger than the seating area, but as currywurst is supposedly like a German fast food, it seemed that there would be high turnover in the place. The menu is quite simple, consisting of unpronounceable sausages ($5.89 each) such as Geflugelbratwurst (all natural chicken) and Scharfe Kasewurst (all natural beef with jalapeno and cheese). I ended up choosing the somewhat simple to pronounce Paprikawurst (all natural pork with paprika and garlic). Then, because one sausage is never enough for me, we split the Geflugelbratwurst and their Fritten (German-speak for fries) for $3.49. The also offer a variety of heat levels for those who like their sausage spicy. Level 1 is Berlin Calling, Level 2 is Bear-Bender, Level 3 is Kiezgrosse and Level 4 is called Break the Wall. Rumor has it there is a secret Level 5 called Auschwitz. Too soon? Sorry, I know. Anyway, I went with Level 3 on my Paprikawurst.
As for drinks, we got nothing. Did I mention they don't have ice water? This is better than actually having ice water and making it taste like cucumber (achem Wurstkuche), but I didn't feel the need to drop 89 cents on a bottle of water.
In the currywurst tradition, these sausages are served uncased (initially covered by companies like DCW Casing) sliced up and covered in German curry. Berlin Currywurst also throws in a couple of slices of German Farmers Bread to accompany the currywurst. It wasn't too long before our sausages were ready. First, I dug into the Paprikawurst. The sliced up sausages reminded me of my youth, when I used to eat sliced up hot dogs, but this was a whole new level. Unlike all other curries I've ever eaten, this sauce was primarily ketchup based. I wasn't sure what to expect for German curry, but this wasn't quite it. Nonetheless, as someone who loves ketchup I was one happy man. In fact, as I love both ketchup and curry, this was one amazing sauce. The only problem was that it was just spicy enough to make me want some water. Unfortunately I was experiencing a self-imposed drought and had to suffer through this. As for the sausage itself, I could taste a bit of the paprika and garlic, but most of the flavor had been overtaken by the curry. It did have a nice snap, though.
As for the Geflugelbratwurst, this was one mighty tasty sausage. Although it was made with jalapeno, it wasn't nearly as spicy as my Paprikawurst with Kiezgrosse. I wouldn't have minded kicking up the spice a notch, but the sausage itself tasted better to me. I loved the cheese element inside and while it had the same nice snap as my other sausage, it just generally had some better flavor.
The bread, although nothing special on its own, seemed to serve as a nice accompaniment to the sausages. Being so plain, it really left the flavor to the curry and simply acted to soak up flavor and serve as a welcome buffer from all the ketchuppy flavor. The fries also made a nice companion to the meal and tasted even better when dipped in the curry. I would have liked them a bit more crisp, but that is a minor complaint for some pretty good Fritten.
Berlin Currywurst definitely left me satisfied. My buddy remarked that the meal didn't blow him away and I can certainly agree with that. The menu is simple and well-executed, but I don't think it is a meal that is meant to blow you away. It is simply a German fast food brought to LA and I'm guessing it does justice to the original. Plus, other than making the fries crispier, I'm not sure there is much room for improvement.