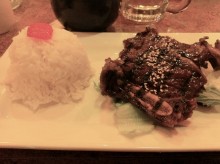 Now calling a restaurant Sushi Raw may seem redundant at first, because sushi is usually…well…raw. But the name does have a ring to it and almost sounds like it could be the Japanese word for "Law." So even though I'm no sushi fan, I was still interested in seeing what this sushi could be like. Sushi Raw has locations throughout San Francisco and the one we went to was in the Lower Haight.
As per usual at sushi restaurant, I found myself staring at the menu for a long time. My biggest trouble with sushi is that usually no matter what you get, most things taste pretty much the same to me. I don't know if this means I don't have a refined palette or that there is very little difference between raw tuna and raw salmon. With this in mind, the first dish I ordered here was not sushi at all. It was the Beef Short Rib.
The short rib came with a scoop of rice and was made with the chef's special sauce. It ended up looking like just about every other Asian short rib I'd ever seen, which was a good sign because I like that stuff. Then I bit in and found this to be some of the toughest short rib I'd ever eaten. It was either cooked too long or never tenderized, because eating this required me to get my hands dirty holding down part of the beef while my mouth bit off the other end. The sauce was good, but wasn't really too special.
Since the place specialized in sushi, I also ordered a really interesting-looking roll I found. It was called the Eclipse Roll and consisted of spicy tuna, cream cheese and house special sauce (which I assumed was different from the chef's special sauce). Oh, it was also deep-fried. The place may be called Sushi Raw, but I was in no mood for raw sushi.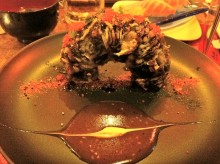 When my Eclipse Roll came, everyone looked at my dish in amazement. It came shaped like an arch, standing atop my plate. And what's even cooler than that is that the roll was already cut. The Eclipse Roll was defying gravity, and I hoped that presentation wasn't the only thing I enjoyed about the roll. Immediately after taking my picture, I knocked the roll down and pulled out a section with my chopsticks. I bit into the first section and was actually impressed. It still had some of the strange texture of raw sushi, but the flavor of the spicy tuna and cream cheese was unleashed by the deep frying. It was like someone soaked a fish stick in spicy sauce, fried it, dipped it in cream cheese and wrapped it in rice. And then made it look fancy. It was like the grown up version of a boyhood dream of just throwing a bunch of things you like into one place and then deep frying them. The Eclipse Roll had definitely been a good choice.
So although I can't speak for any of the raw sushi at Sushi Raw, I can say that going with a deep fried roll is a good choice. I can also say that ordering something that isn't sushi here is likely a bad choice, as proven by my short ribs. If deep fried sushi was a more common occurrence, you might see the Unvegan at a few more sushi places.