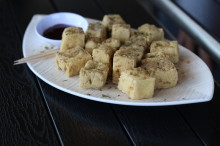 If you're a longtime reader, you may recall a post from a few years ago highlighting the illustrious Chinese street food called Chou Doufu. Literally translating to "stinky tofu," this dish can be smelled from blocks away and the smell is the antithesis of fragrant. For a long time, I thought this dish was relegated to Asia, until I read about a place in Gardena called Yami Teahouse that claimed to have that stinky bean curd. To my delight, it wasn't far from my office and I might my way there to perk up my olfactory memory.
Yami turned out to be type of teahouse that served up mostly snack foods and a ton of teas, so I started out with a Taro Milk Tea with lychee jellies. One thing that was cool about Yami is that they allow you to choose how sweet to make your tea. This was a nice touch, because quite often milk tea is prepared way too sweet and when I ordered mine at 75% it was some of the best I've ever had, and I've had a lot of it.
As for the chou doufu, it turned out that Yami Teahouse was Taiwanese, meaning their stinky tofu wasn't quite the same as I had experienced in Shanghai. In fact, stinky tofu is very regional and can be very different. This stuff, however, wasn't terribly different and carried that same horrific scent I had grown to love and abhor. The taste brought back memories, but it was missing the spicy chili sauce used in Shanghai that I always thought really brought the snack together. Nonetheless, this was some authentic stuff and is unquestionably worth visiting for anyone who misses or is curious about stinky tofu.
Knowing that the tofu would not be enough for a meal, I ordered some of their Popcorn Chicken with chili spice to supplement my meal and act as buffer between bites of tofu. The chicken turned out to be quite the portion and actually quite tasty.
Finally, I ordered a piece of their Coconut Sweet Butter Toast because it just looked so damn good. I was right, it was awesome. The toast was super thick, topped with a layer of toasted coconut, then drizzled with condensed milk and what I deduced to be nutella. It was a pretty amazing way to close out the meal.
In all, I'd say the field trip to Yami Teahouse was a total success. The tea was a big hit, the tofu was executed well, and the rest of the food did its job. It might be a long time before I have a craving for stinky tofu again, but I can rest easy knowing that it is closer than a flight across the Pacific. If you do decide to brave the stinky tofu though, just be sure your nose is prepared.