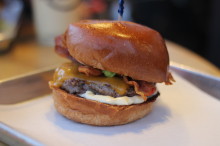 Back in January, some family friends were in town and encountered a burger truck called Rounds Burgers. To say they wouldn't shut up about it would be an understatement, as when I saw them again in June those burgers were still the only thing they wanted to talk about. So, being the good unvegan burger connoisseur I am, I knew I had to check out Rounds before writing up my (almost) definitive list of LA's top burgers.
I managed to convince a buddy of mine to visit the West Hollywood location, which I know isn't the truck, but figured anything they could do on the truck they should be able to do at least as well on land.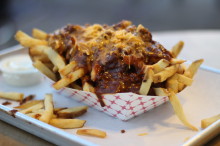 We ordered a basket of Chili Cheese Fries for the table, and I decided to order their California Classic burger all for myself. This burger came topped with bacon, American cheese and avocado mash according to the menu, but things were a little different when I made my order. First, I had to make sure it didn't come with vegetables and whatnot, but then the dude behind the counter asked if I wanted a cheese other than American, so I opted for cheddar. Then, he asked if I wanted a sauce other than 1000 island, which I hadn't even realized the burger came with to start. I chose garlic aioli instead and then asked what the avocado mash was. It turned out that avocado mash was quite literally mashed up avocado with some seasoning, which was, to me the perfect guacamole.
The fries ended up being pretty basic chili cheese fries, except that they strangely came with a dipping sauce (ranch was recommended to me). I honestly couldn't complain about them, but I also can't say that they stood out in any way either. And the ranch was an interesting touch that neither really added nor took anything away.
The burger, though, did stand out to me. Rounds definitely deserves props for putting together a superior burger with tasty, quality ingredients, however, it did not live up to the lofty expectations I had. Perhaps this is not the fault of the burger, but of the expectations. Nonetheless, the burger is certainly worth a try and won't let you down unless you are expecting one of the best burgers ever.