Deep in the heart of the Hollywood Strip is a burger that rivals Umami Burger. Or so a coworker told me once upon a time. That once upon a time may have been over a year ago, but I never forgot, so when I had the chance to meet some buddies for dinner in Hollywood, Lucky Devils crept into my mind (and it didn't hurt that it has been sitting on my to-eat list). What we found was a neat space with a great and enthusiastic server who was happy to tell us of their current specials, some awesome beers on tap and help us out with anything on the menu. Even though I had sworn not to drink, his description of their special black IPA on tap almost had my mouth watering enough to break the promise I made to myself.
But while a neat space and great staff is good and well, none of that matters If the food flops. Of their interesting burger options, the one that looked best to me was the Diablo Burger. Plus, it was keeping with the hellish theme of the place, and who was I to fight Hell? This burger was topped with white cheddar, double-smoked bacon, avocado, wild arugula, house 1,000 island and devil hot sauce. I ordered it without the wild arugula (What makes it wild? Do they literally find it in a field somewhere?) and made sure the get the hot sauce at their 2x level because my buddy had already tried the 1x and found it to be lacking in heat. I also upgraded the burger from Black Angus to their 100% grass-fed Tallgrass Beef for an extra $1.50. It's a small price to pay for grass-fed beef, which is always superior.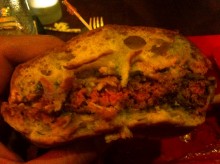 When my burger arrived, I looked upon it in disappointment. Sprouting from inside the bun, I could see arugula gone wild. This was a damn shame and immediately destroyed my first impression of their food. I had to de-bun the burger, remove the leaves and put it back together before I could even taste the burger. When I finally did get to eat, the first thing I noticed about the burger was the overwhelming amount of 1,000 island. This sauce dominated the burger, and not in a good way. The devil sauce, which offered some great heat when I could eat it away from the 1,000 island, was severely tempered whenever it hit the dressing.
The other elements of the burger, including the meat itself, were awesome. I could only taste a single smoke in the bacon, but it was delicious, and I loved the inclusion of white cheddar, which is always a sure way to get to my heart.  The bun did a great job of keeping the burger together and had some great give to it when I squeezed it for every bite. The Tallgrass beef was a bit more lean than your usual burger, so it didn't ooze out much juiciness, but it was definitely not dry and cooked to a nice medium/medium rare.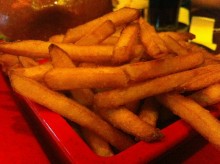 Oh, and did I mention that I ordered fries? No? Well, I did and they were damn good. They were listed on the menu as Crispy Fries and certainly lived up to their name. But while, crispy, they weren't overdone and still had a nice potato-ey taste and some softness in their core. They were nice and evenly salted and really made a great companion to the burger.
Ultimately, what could have been an amazing burger and fries was undone by a couple of big flaws. Arugula (wild or tame) is simply unacceptable on an unvegan burger. And just go easy on the 1,000 island. There's no need to flood a burger with that stuff, and in fact I think it would have been better off without it completely. It can go hang out with the arugula in a salad somewhere instead of chilling on my burger.