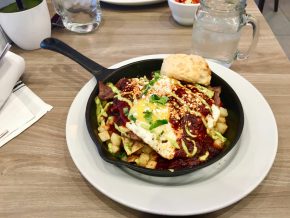 It's not often that I eat at a new place (for me) twice before getting a chance to review that place. Yet, that weirdly happened with Hash Kitchen, a breakfast spot (no, not a dispensary) with a few locations around the Phoenix/Scottsdale area. As you may expect, they specialize in Bloody Marys. Okay, but also in different kinds of hash if you're not in a Bloody Mary mood, which I literally never am.
On my first visit, I found myself choosing between the Huevos Rancheros Hash and the Carnitas Hash. Ultimately, I ordered the carnitas, but was brought the huevos instead. Oh well, it was really a tossup because they both looked so great. And what was great about the huevos was that they weren't your typical meatless huevos and actually had carne asada to go along with the black beans, potatoes, cotija cheese, tortilla, fried eggs, avocado, cilantro and red sauce. Needless to say, they used a lot of ingredients. Yet, these ingredients had been carefully measured and all worked perfectly together.
Upon my return, I made sure not to give my waiter an option and simply ordered the carnitas. These contained the aforementioned shredded pork, potatoes, cotija cheese, roasted corn, crema, avocado, green chile sauce, fried onions, cilantro and tortillas. Essentially, it was like the huevos rancheros with some twists. Most importantly, it was a perfectly unvegan dream. Like the huevos before it, the carnitas hash we a delicious blend of all its ingredients, allowing each to work with one another and still maintain its own identity.
Scottsdale is weirdly rich in breakfast spots, and Hash Kitchen is certainly a good one, at least if its namesake dishes are anything to go off of. Oh, and also if you're willing to eat carne asada instead of carnitas on occasion.