The chicken parmesan sandwich somehow escapes ridicule as one of the most carby delicious foods. If you threw fried mozzarella on a sandwich with some grilled chicken and marinara people would think you were insane, but here we are in a world that allows for breaded chicken on a sandwich and I heard a spot called Parm on the Upper West Side knew how to make a pretty good one.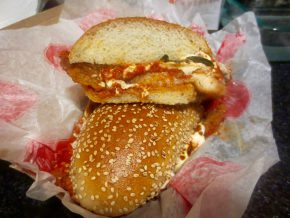 Parm's version comes on the choice of a sweet semolina roll or a sesame hero. I was told to get the hero and did, then swapped half of it for half of an Italian Combo, which is loaded with cold cuts and provolone (as well as some lettuce and tomato that I peeled off). Both of these turned out beautifully. The chicken parm was my favorite of the two and was perfectly moist with just enough marinara, cheese and basil to keep it in balance.
This is not to say the Italian Combo was bad, after all, the combination of black forest ham, salami, mortadella and at least two other beautiful but unidentifiable meats made me a happy and salty man. Plus, the hero was definitely the way to go, as it did the incredibly difficult task of containing all that good food while adding its own texture and a hint of flavor.
The price is a little steep for a sandwich, but such is New York and it's not like Parm dishes out light portions.