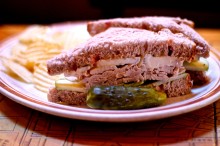 Michigan people are everywhere. And I mean everywhere. Not only that, but those people have a lot of pride, and as one of them I can't say I blame them. That's why, when I was in New York and was told a restaurant called The Grey Dog was run by Wolverines, I had to offer them my patronage. The highlight of its menu is a section called Michigan Sandwiches and despite the fact that none of them seemed to have any correlation with Michigan itself, I knew one of them had to get in me.
I ended up choosing the Apples & Brie sandwich, which came with roasted turkey, slice granny smith apples, the aforementioned brie and a raspberry mustard. I was told the cranberry walnut bread would be a good choice, so I went with that and also asked to swap out the raspberry mustard with honey mayo.
When my sandwich arrived, I have to say I was disappointed. Resting on my plate and laughing at me all the while was a pickle. I expect such things from lesser sandwich shops, but certainly not from a Michigan joint. There must have been some Ohio State employees working that day. Once that was removed, I bit in and found myself eating quite a hearty sandwich, but something wasn't quite right. That thing turned out to be honey mustard instead of honey mayo. After the pickle, I can't say I was surprised, but I was a bit disappointed.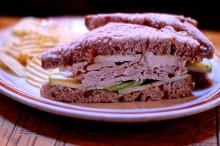 Aside from the mishaps, the sandwich was quite delicious. The turkey was delicious, the cheese was sizable and the bread was a good choice. If not for a couple of mistakes, The Grey Dog could have been something great, but instead it is just a regular sandwich place with strong Michigan roots.