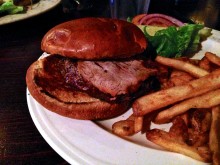 East Lansing, Michigan isn't exactly known as a bastion of culture. Harboring the state's foremost safety school is basically the city's only claim to fame. Well, that and the fact that students of the school are known to riot whether their teams win or lose. Nonetheless, I found myself in that small agricultural village in need of food after a rough football game. This led me to Dublin Square, an Irish Pub with a sizable food menu.
Per usual at such establishments, I set my sights on their burgers and chose the BBQ with Irish Bacon. This thing came with green apple BBQ sauce, a choice of cheese and the aforementioned Irish bacon. I chose cheddar for my cheese, ordered medium rare and waited for my meal to come.
And come it did. Unfortunately, it was served with lettuce, tomato, onions and a pickle, but these unwanted guests were at least separated from the real food. The Irish bacon was different from what I had been expecting. I wasn't expecting real bacon, but something cured and instead found a slice of an undetermined meat with a flavor that was indistinguishable with the cheese and BBQ sauce mixed in. The bun had been nicely toasted, but the burger it's self was quite well-done and pretty dry. Such a meal might have been delicious after much drinking, but without the alcohol I wasn't loving it.
And, of course, that is what can be expected from East Lansing. An unfulfilling burger, but just enough nutrients to get by.