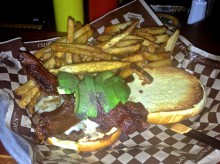 For my last meal in Seattle, I met up with a buddy of mine at a place called DeLuxe Bar & Grill in Capitol Hill. This is not to be confused with Delux in Phoenix, a place known to make subpar burgers. DeLuxe in Seattle has been around since 1962 and serves up some great beers and a variety of bar food to join those drinks. Per usual, my eyes darted to the burgers (all grass-fed on account of being in Seattle) and there was quite a variety to choose from.
Ultimately I decided upon the Ultimate BOA, which came with avocado, white cheddar, bacon, special sauce and the insidious vegetables known as lettuce, tomato and onion. I made my order without those final three ingredients and asked for the burger to be medium-rare. I also got a side of fries.
The end result was almost everything you would want a bar burger to be. The toppings were delicious and plentiful. The bun was perfectly toasted and simple. The meat, however, was a bit more cooked than I would have liked. Good thing it was juicy enough to try to make up for that shortcoming.
Of course, the patty is the core of the burger, so the overcooking wasn't a small detail. Nonetheless, this was a classic bar and not the type of place one might expect something overly gourmet. DeLuxe delivered on just enough to make it a place I would still recommend to anyone looking for a fair amount of satisfaction.