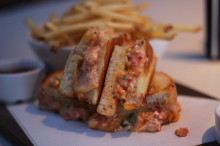 Contrary to my belief based on visits to Canada from Detroit when I was a wee boy, the Great White North is not a cheap place. Gone are the days that an American dollar could be exchanged for a toonie. Instead, the US is now the place Canada looks to for cheap stuff, making it difficult for an incoming grad student on a road trip budget to eat. Yet, somehow we found our way to Joey Broadway in South Granview, a modern Canadian restaurant with a great-looking menu and Goldilocks-esque just-right pricing. Not to mention a killer patio.
And speaking of killer, they also had a great deal on Whistler Whiskey Jack Pale Ale, a beer from nearby Whistler, for $2.99, so for just about the only time on the our trip I indulged. I also indulged with my meal, a Lobster Grilled Cheese to end all lobster grilled cheeses. Stuffed with Atlantic lobster, brie and cheddar, this was a grilled cheese I have to admit I probably couldn't have made in my toaster. It was also served with cocktail sauce and let me tell you it was nothing short of amazing. And I'm not even a big brie guy, but each bite I took only made me sadder that I would have one fewer bite to eat in the end. The bread was perfectly crispy, the cheese to lobster ratio was perfect and, well, wow.
It seems that there is a good reason Joey restaurants are popping up all over Canada. Joey has hit on something good and something to remember.
Oh and did I mention it came with fries? Yeah, those were good too.