Recently, a Facebook burger competition (very scientific) crowned 26 Beach in Venice as the best burger in LA. Now you may be asking yourself, "What the hell is 26 Beach?" and you are not alone, because even I had no idea what the place was until contest began. Somehow this unknown burger contender topped my personal favorite, Umami Burger. I couldn't let this stand, well at least not without trying it myself, so off I went to 26 Beach to see what sort of witchery pushed their burger to the top of the heap.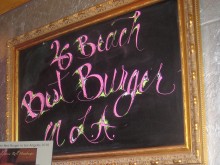 When I arrived I found out that they were not a one-burger place. 26 Beach had a bunch of good-looking burgers (ranging from 14 to 19 smackeroos). The burger that had actually won the competition was one of those 19-dollar burgers. It was called the Chef Katsu's Original California Roll Burger. That's quite a name and quite a burger unfit for this unvegan. This Angus burger is topped with snow crab salad, avocado, ginger, nori, shoyu-wasabi-aioli, baby mixed greens and tomato. First off, I don't love me some sushi, so eating sushi on a burger would be no good for my taste buds. Second off, that is just too many toppings. Sure, I love me some bacon and egg on a burger here and there, but those are flat and manageable, not some unholy menagerie of beef and sushi.
Quickly dismissing this burger, I moved on to greener pastures. It was truly difficult to choose from their great options, but I finally settled on their Prosciutto Burger. This 19-dollar monster was topped with prosciutto di parma, triple creme cheese, fig compote, baby mix, heirloom tomatoes and mayo. I ordered mine without the fancy baby mix and heirloom tomatoes. It came with a side of fries to make me feel a little better about dropping nearly 20 bucks on one burger.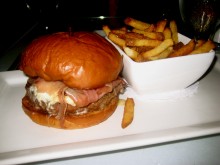 After a bit of a wait, all of our burgers arrived. I glanced at those who ordered the "Best Burger in LA" and knew I had made the right choice. These burgers weren't some amateur little fast food burgers. These were massive beef patties that almost made me forget the small fortune I had dropped on mine. I dug in a met with a nice variety of flavors. The bun was fluffy and buttery and the burger itself was cooked perfectly with a nice, thick grind. The cheese was gooey and tasty, but when combined with the prosciutto it kind of overwhelmed my taste buds with salt.
Something was needed to cut through the salt, something was missing. Oh yes, the fig compote. After a few bites, I found where the fig compote was hiding and this brought a great balance to the burger. Unfortunately, the compote wasn't spread throughout the burger and with each bite, I hoped that there would be fig involved to bring balance to my mouth. Sadly, it wasn't always there.
The Prosciutto Burger at 26 Beach was definitely a great burger. Unfortunately, lack of balance kept it from being one of the best burgers I have ever had. I'm definitely up for another visit to 26 Beach to try some of their other interesting burgers, but their prices are probably going to keep me away for some time.