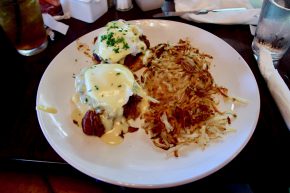 Perhaps one of the most underrated songs of the 90s was "Ecstasy" by Rusted Root. And while none of the lyrics are really related to eating at a breakfast spot called Eggstasy in Scottsdale, I nonetheless found myself unable to get the song out of my head for the duration of my meal there, and also it is stuck in there now, as I write. But I digress, what matters is the food, and actually the service for once.
Honestly, unless a place is particularly egregious or amazing, service generally doesn't have much of an impact on my experience. At Eggstasy, though, I felt spoiled by the service. I have never seen a waiter or waitress care so much about keeping my child happy, and, by extension, me. This gave me a lot of trust in that waitress, so that when I asked whether to go with the corned beef hash or barbacoa benedict, I had full trust in her response. It was the benedict.
Boy was I happy to have placed my trust in her. These were like any other eggs benedict except that the Canadian bacon was straight up swapped out for barbacoa beef. The eggs had been perfectly poached and could have run for a 5K if my plate didn't stop them, the hollandaise sauce was delicious and the English muffins were perfectly toasted. Most importantly, the barbacoa added a beefy and savory flavor that Canadian bacon is simply incapable of. Plus, the has browns were just my style.
Eggstasy lived up to its overly punny name, and perhaps most importantly, did Rusted Root justice. While the menu is vast and I would love to get back and try more options, I know it's going to be hard to top that barbacoa benedict.