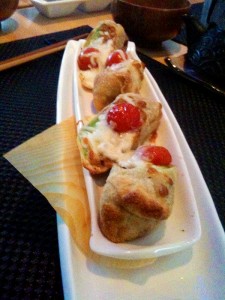 When you walk into Kaya Sushi, there is a massive glass waterfall blocking your way. Do not be deterred, though, because you can easily circumvent this waterfall by walking to the left or right. If you make it past, you'll find yourself in the posh new sushi restaurant in El Segundo.
The place had an apparent brush with Korean as well as Japanese, since the lettering in their logo was distinctly Korean and there were even a few Korean items on the menu. Their sushi roll list was quite extensive, but I managed to find the least sushi-ish dish on the menu for myself.
This glorious piece of work was called the Kaya Taco Roll and consisted of spicy tuna and avocado in an egg roll skin, deep fried and topped with mozzarella cheese and with some sweet eel sauce. I ordered the delicious-sounding roll with intense excitement. While waiting, we all were given some miso soup to sip on, but this was fluff compared to the roll I was so excited about.
When my roll arrived, I looked upon it in disappointment. Topping each section of the roll was half of a cherry tomato. Nowhere on the menu did it say that I would be forced to look upon a tomato trying to impersonate a cherry. Luckily there were no veggie bits tucked inside the rolls and the tomatoes were pretty easy to remove with my agile chopstick abilities.
With the tomato party crashers removed, I was free to dig in on my roll. This was the way sushi should be eaten. Each bite was tastier than the next, and even better when dipped in that eel sauce. The tuna and avocado danced on my taste buds and the mozzarella made it all taste better. I think it's strange that other than cream cheese, cheese has not been experimented much with sushi. It's time for this to change, because cheese makes everything better.
Kaya Sushi gave a me a completely new outlook on sushi. In the Sushi Kaya world, sushi is a much more ambiguous term than I had always thought. It paved the way for me to order something I never before would have considered sushi, and it was delicious. Now if only they could tell me ahead of time that they will be tainting my experience with cherry tomatoes.