Perched in the top of a building on top of Mount Washington and featuring a bar design that hasn't been updated since the seventies or was intentionally painted to look that way is Monterey Bay Fish Grotto. Monterey Bay features one of the best views of Pittsburgh's three rivers and downtown. It also features fish in a menu that even made me believe seafood could be a viable food source.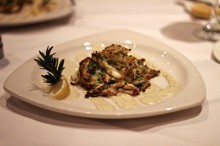 We went with some people much more knowledgeable about Monterey Bay than us and insisted we start out with some Crab Cakes. I'm pretty glad they insisted, because while these lumps of crab meat resembled no cake I have ever seen, they were by far the best crab lumps I have ever eaten. The menu says they are served with Remoulade sauce, but I'm pretty sure it's actually crack sauce for their crack cakes.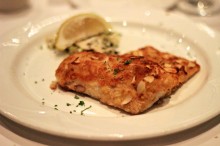 As my main course, I ordered their Great Lakes Walleye served in the almondine style which, for those of you not well-versed in the fish-eating English language, means crusted with almonds. This was a wise choice because it turned out to be some pretty tasty fish. The fishy taste was nonexistent and the meat was juicy and flavorful. I'm not sure how you describe fish flavor when it isn't terrible, but this walleye had it. Also, the almonds were a nice touch as always.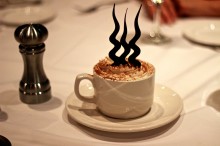 I also had the opportunity to try out some Jumbo Sea Scallops stuffed with crabmeat. It turns out scallops still not edible for my palette, but they did seem to be a hit for people at the table that don't have refined palettes like mine. I also tried out a couple desserts. The best of these was the Angel Food Grilled Cheese, which was unsurprisingly delicious, but not nearly as photogenic as the Steaming Pumpkin Latte, which is why I've opted for that picture instead.
Alas, Monterey Bay Fish Grotto delivered the goods in both view and food. It's definitely a good choice for a nice meal out for seafood lovers. And even for non-seafood lovers, it's worth visiting just for those crazy good crab cake-like substances.