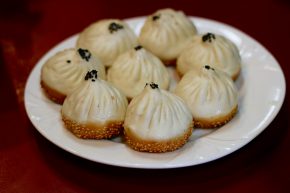 There is a saying attributed to Jonathan Gold that goes something like "'A' is for 'American' Chinese food, 'B' is for 'Better' Chinese food and 'C' is for 'Chinese' Chinese food." The letters, of course, are in reference to the health code and if you've ever been to China, you would know this to be true. Thus, when I heard great things about the dumplings at Emperor Noodles in San Gabriel and then found out it had a "B" rating, I got pretty excited to try it out.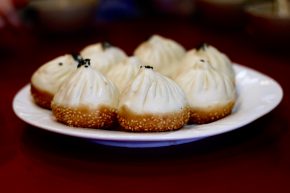 Due to my familiarity with many things Chinese, I was put mostly in charge of the ordering and even used a bit of Mandarin to impress my waiter. It's amazing how bad white Americans are with languages that even the correct pronunciation of Kung Pao Chicken (gong bao jidin) blows real Mandarin speakers away. So, I ordered two sets of shengjianbao (pan-fried soup dumpling) because I knew one per person would not be enough. It turned out I was right, as these were by far the biggest hit of the meal, beginning with the perfect dough, moving on to the delicious pork and finishing with the delightfully crispy sesame seed-laden bottom.
We probably could have just ordered a few more sets of those and been happy, but instead we added on some Salt and Pepper Shrimp, Kung Pao Chicken, Stir-Fried Rice Cakes and Duck Noodle Soup. It was quite the range of food and every bite was delicious. The in-laws weren't exactly excited about peeling their own shrimp, but were pretty happy with the taste they found inside. Oh, and pepper in this case didn't mean the seasoning, it meant the vegetable in case you're wondering.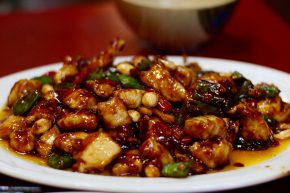 The kung pao chicken was the perfect throwback to my time in China, where I ate this stuff pretty often. It was just the right amount of oily, peanutty and spicy. And if you wanted it to be extra spicy all you had to do was take down a few of the peppers littered around the plate. They weren't hard to find.
As for the rice cakes, they were probably my least favorite dish of the meal and also some of the lesser rice cakes I've eaten. The cakes themselves were fine, but the sauce was definitely lacking in flavor and there was very little meat to be found. In fact, nearly every time I thought I found a juicy morsel, it turned out to be cabbage with enough sauce on it to make it look like meat.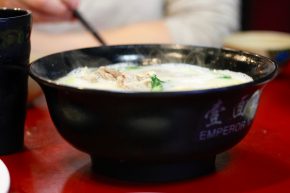 The duck soup was a nice way to finish out the meal (never mind that the rice cakes came out last, I saved the soup to finish things off). I say it was a good way to finish because it had great, yet subtle flavor, allowing me to wash everything else down while still enjoying some taste. It didn't hurt that the noodles were also very enjoyable and the duck and bamboo shoots were pretty snazzy.
So, yeah, it was a solid outing. Not every dish was tops, but the overall experience felt ripped right out of my time living in Shanghai and frankly even real Shanghai would have trouble competing with this shengjianbao.