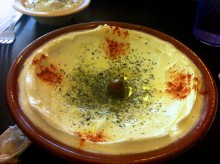 It's not often I get out to Playa Del Rey for food, but there's something about house sitting in a place that inspires you to eat there. In the mood for an adventure we took a walk around and stumbled upon Playa's Pita, a possessive and alliterative Lebanese restaurant that seemed a lot better than pizza or Chinese.
Although I am usually a hummus type of guy when it comes to Middle Eastern food, on this particular night I was in the mood for Labneh, which is a thick yogurt dip. The waitress recommended coupling it with cucumbers, but this idea was instantly rejected. Yet, she persisted and ended up bring some cucumbers out mixed with yogurt to show us what we were missing. I had no part of it and my lady didn't find it special in any way. The labneh itself, though, was awesome and a great way to kick things off.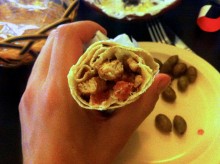 Unfortunately, things went downhill from there. For my main course I had ordered the chicken shawarma wrap, which I was told came with some pickles. I ordered it without these, only to receive a sandwich loaded with pickles and tomatoes. Plus, it had a bunch of olives on the side that didn't help. So, instead of simply enjoying my wrap, I spent the meal picking out terrible vegetables from my meal.
Did the wrap taste good? I guess, but it really wasn't special enough to be worth battling vegetables. I guess it's a place that makes sense if you are looking for convenience, but unfortunately it wasn't anything more than that.