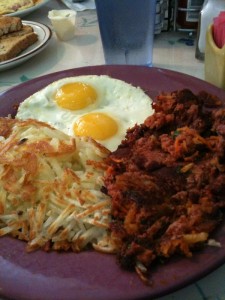 The following guest blog is courtesy of Waldo Centeno. Check him out on Twitter: @waldocent
I woke up on Sunday contemplating two things: what happened last night and what's for breakfast? In a way, both questions were answered with one phrase – S & W. Since moving to Culver City, my roommate and I have regularly attended S & W a few times a month and frequently run into people we know. This time was no different, as we were greeted with many friendly faces.
As usual, the diner was uniquely covered in a menagerie of old travel souvenir items (license plates, road signs, large coca cola cap, etc.) scattered along the walls. The simple setup of a counter, booths, un-sturdy tables, and mismatched chairs fondly reminded me of Ann Arbor's own Fleetwood Diner, which is also a great place to get rid of hangovers while blowing away cigarette ash off of your plate. S & W, however, lacks cigarette ash/smoke, which is a plus in my book.
We waited for our names to be called to be seated, which was usually the most agonizing part of going to S & W with the exception of needing cash since it is a cash only establishment. This day was different, though, and we quickly passed the time talking with friends about our past evening and how cute the waitresses happened to be that day.
Once seated, I quickly glanced over the massive menu list and ordered none other than the meatiest of meat breakfasts that I could think of: homemade corned beef hash. I was pleased to find there to be an option of canned corn beef hash for a dollar less, but why go for an imitation when you can get the real thing?
My corned beef hash came with two eggs and a side of hash browns, which were all quickly and properly prepared. The combination egg yolk along with the hash could calm anyone's hangover. After devouring such a meaty meal, I found myself feeling much better. Once again, S & W was another great stop on a recovery Sunday, which I'm sure there will be more of.