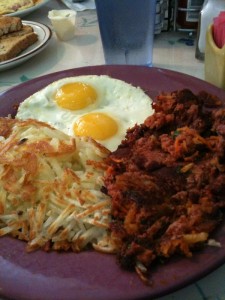 The following guest blog is courtesy of Waldo Centeno. Check him out on Twitter: @waldocent
I woke up on Sunday contemplating two things: what happened last night and what's for breakfast? In a way, both questions were answered with one phrase – S & W. Since moving to Culver City, my roommate and I have regularly attended S & W a few times a month and frequently run into people we know. This time was no different, as we were greeted with many friendly faces.
As usual, the diner was uniquely covered in a menagerie of old travel souvenir items (license plates, road signs, large coca cola cap, etc.) scattered along the walls. The simple setup of a counter, booths, un-sturdy tables, and mismatched chairs fondly reminded me of Ann Arbor's own Fleetwood Diner, which is also a great place to get rid of hangovers while blowing away cigarette ash off of your plate. S & W, however, lacks cigarette ash/smoke, which is a plus in my book.