In the Hills of Beverly, there lies a restaurant called Silk Thai Cuisine. A friend of mine recommended it, so I went with a couple friends of mine. Despite the initial trauma of trying to find the restaurant on Santa Monica Boulevard when there are somehow two Santa Monica Boulevards, we arrived in one piece.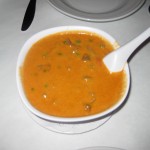 The menu was littered with all sort of Thai goodies, and my eyes immediately went to the Panang Curry, which is Thai curry mixed with coconut milk, peanuts, basil and kaffir leaves. There was also a choice of vegetables, tofu, chicken, pork, beef, shrimp, calamari, salmon, seafood or scallop. Despite the initial setback of vegetables and tofu, they offered a nice array of unvegan additions. I decided to keep it simple and went with the beef. Because we were in a group, though, we decided to get our food "family style," so we each ordered a dish to split. This was unfortunate for my lifestyle, because I have no other friends with a diet that excludes vegetables. My "friends" chose to order the Pad Thai with Chicken and Basil Chicken. On top of that, we each got our own little bowls of rice.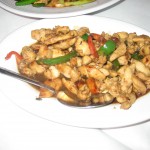 When the food came, the curry was in a delightful little bowl without any vegetable distractions. It was also nice and spicy, just the way I like it. The other dishes, however, were not in such a great state. The Basil Chicken was actually not so problematic, as it came with big peppers that were easy to avoid when scooping out my selection but there was something far worse in store for me.
The Pad Thai, a dish that could so delightfully be made of simply chicken, noodles and peanut sauce, carried with it an unfortunate array of stringy vegetables. I say stringy because this got the vegetables entangled with the noodles and made it almost impossible to tell the difference with the naked eye until the foul plants snuck their way into my mouth. These veggies were spring onions, bean sprouts, red onions and stringy carrots. They all seem so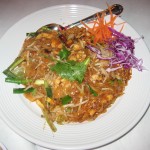 easy to avoid until they are covered in peanut sauce. Luckily, I if I happened to make contact with one of these stringy spies, I was able to quickly wash it down with a spoonful of curry to minimize the damage.
In the end, as I slowly figured out how to eat everything, I found the food to be really quite good. The real enemy, I found, was family style dining. If I were the ruler of this family, vegetables would be banned and people could enjoy Thai food the way I do, the unvegan way.