I like to think of myself as a simple man. My needs are simple and if you've noticed by my food blogging, I am often happier with a simple, well-executed meal that gourmet nonsense. Because of this, I was intrigued by Simplethings in Mid City despite the fact that they took a seemingly simplistic name and made it into one word. Simplethings bills itself as a sandwich and pie shop (restaurant), which both also seem simple, but not here.
Sandwiches come with things like michetti rolls, arugula and chutney. By name, not of these are simple, but some of the sandwiches did look good despite nearly all of them having some veggies inside. By recommendation, I ordered the Pulled Chicken sandwich. It came with arugula, pickled onions, garlic aioli, chevre spread and chipotle BBQ sauce on a pretzel roll. I ordered it without the arugula and onions and also ordered mac and cheese with bacon by similar suggestion.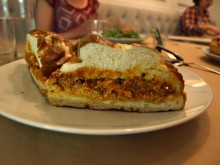 When the sandwich came out, it looked delicious, but surprisingly small for the $9.50 price tag it carried. It also had some not-so-simple vegetable garnishings to it. Luckily, that was as far as the vegetables went. All else was veggie-free and tasted awesome. The BBQ sauce was really something else. It carried the BBQ flavor without getting too powerful with the spiciness. I could have handled more spice, but this was definitely a comfortable level of heat for anyone not into spicy food. The pretzel bread was also great, having the right amount of softness inside and toughness on the outside.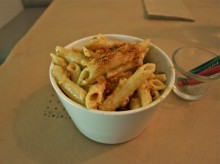 The mac and cheese was actually pretty disappointing. They tried to get all fancy with a sprinkling of pork dust on top of the mac, but it couldn't save it from being a black hole of flavor. Maybe this could have been solved by salt, and while usually bacon takes care of salt, even that didn't really add much. I guess there is a reason it is called a sandwich and pie shop instead of a mac and cheese shop.
I also got a chance to try some of their salted caramel pie and must say it tasted awesome. It was a bit rich, but that should be expected with such a pie and they come in super small sizes for those who can't handle too much richness.
While Simplethings is a bit of a misnomer, the place certainly lives up to its billing as a sandwich and pie shop. These were certainly the highlights of the menu and made Simplethings a place worth checking out, even if it's not quite made for a simple man.