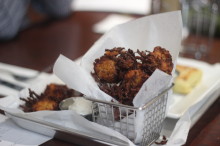 It's no secret that Squirrel Hill is the heart of Pittsburgh's Jewish community. Typically such a place would be froth with delis, bagel shops and falafel, but not Squirrel Hill. Sure, some of those places exist, but not like one might expect. Luckily, though, this has left room for a new type of Jewish restaurant, called Nu. Calling itself a "Modern Jewish Bistro," Nu means "well…?" in Yiddish and came into town at the end of last year from the people who brought the world Pamela's. Since then, it has set about redefining Jewish food. After all, it's time for a creative take on tradition.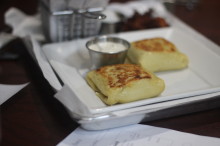 Fortunately for those who don't know Jewish food, Nu has definitions posted on the walls for all sorts of items that appear on the menu. And the items should all be familiar to Jews, but with slight twists. For example, we started out with their Latke Tots and Mummy's Meat Blintzes. The Latke Tots were like traditional Jewish potato pancakes, but somehow prepared like a tater tot and absolutely awesome. However, they could have been even better if served with apple sauce instead of sour cream. Then the blintzes, which are like a Jewish crepe typically filled with ricotta-like cheese and fruit, had the lovely twist of being stuffed with brisket. Again, delicious.
As for my main course, I ordered a little sandwich called T.O.M. This guy was served open-faced with "nice" challah as the base and topped with slow roasted brisket, grilled Kishka (a wide type of sausage usually filled with beef and some sort of grain as filler), and gravy. No word on what "nice" meant, but I assume it was like a "nice Jewish boy." It was a delicious sandwich, however, when I ordered it I asked for my pickle and cole slaw to go to my wife and the waitress failed to do so. Fortunately, both were far removed from the real food (with the slaw being served in a Chinese take-out box) and I was able to pass the unwelcome food over.
Perhaps the coolest thing on the menu was what my wife got. It was called the Reuben Knishwich, which was a reuben sandwich stuffed inside a traditional knish pastry. A knish is usually just stuffed with potato, but this may have blown the potato away. The only trouble was that sauerkraut was mixed up inside and difficult to avoid. Yet, if I had ordered for myself I like to think that could have been avoided.
I was pleasantly surprised with my experience at Nu. Growing up with food like this and seeing a new take on it was quite nice. And although any instance where you would expect bacon was replaced with crispy chicken skin, Nu is not Kosher and has no trouble mixing dairy with meat. It's a real mitzvah.