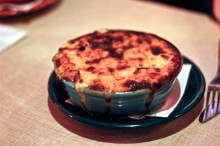 I'm not sure a soul in the world exists that doesn't like Mac and Cheese. Sure, some might not be able to eat it for lactose, gluten or (shudder) vegan reasons, but I am sure those people all still wish they could eat it. After all, it is quite possibly the ultimate comfort food. So when Pop City called out Kelly's Bar & Lounge as Pittsburgh's best mac and cheese (apparently a very poorly-kept secret), I made my way there as quickly as possible.
Kelly's turned out to be a dimly-lit (hence the crappy pictures) dive-esque lounge with a limited, but diverse menu. Of course, I was just there for beer and the mac and cheese, which came as two options: regular ($6) and mini ($4). Since this was to be my whole meal, I got the normal size.
When it arrived, it was a beautiful sight to see. There were no frills like bread crumbs or meat on this mac, just cheese, elbow noodles and a bowl. At the top, the cheese had been baked to a crisp, which is presumably difficult to do because most places use panko or bread crumbs to get an upper crisp. Inside, the cheese was all at once creamy and gooey, with just the slightest kick of spice.
Having tried the mac at Smoke, Union Pig & Chicken and YinzBurgh BBQ, I can confidently call Kelly's the best, at least as far as classic mac and cheese goes. Anyone can add meat to their mac to make it stand out, but making it stand out on mac and cheese alone is truly something special.