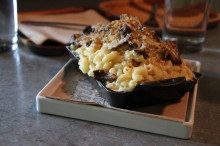 EDIT: Smoke has since moved to Lawrenceville, and thus there are some updates below.
Outside of the Waterfront, Homestead isn't exactly a destination in Pittsburgh. Yet, within that sketchy neighborhood lies a restaurant called Smoke. Such a vague name usually would lead someone to believe that it's doors contain BBQ and that person would be right, but it's not just regular BBQ, it is something like Mexican BBQ fusion. The menu mostly contains fascinating BBQ tacos, a random duck quesadilla and some interesting sides.
We started out with their Mac N Cheese, which had roasted garlic, shallots, mascarpone cheese, white cheddar and bread crumbs. Then we topped it with brisket because obviously that was necessary. The result was pretty tasty, and I gobbled it up, but it was also not the best mac I've ever had.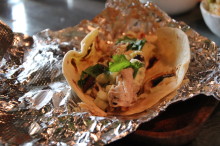 Then came my two tacos, which I expected to be small and unfilling, but this turned out not to be the case. As soon as I opened the first, I realized I was in over my head. One was the ChickenApple, and it had nothing to do with sausage. Instead, it was filled with BBQ chicken, bits of apple, bacon, cheddar, cilantro and a smoked jalapeno mayo. It was nothing short of delicious and the ingredients were nothing short of perfectly balanced.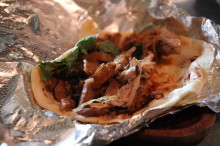 My second taco was Pork. You can tell that Smoke is very creative when naming their tacos. Nonetheless, this thing was filled with pulled pork, apricot habanero sauce and cilantro. It also would have had caramelized onions, but I made sure that didn't happen. While not as awesome in terms of ingredients, this taco was nonetheless delicious in its relative simplicity.
In a world filled with useless fusion cuisine, Smoke has carved out a really really delicious niche. I never would have thought to put BBQ in tacos, but that's why I'm a meat blogger and not a chef.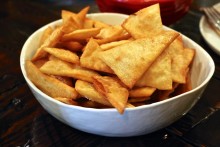 [EDIT: Since Smoke has now moved to Lawrenceville, I wanted to revisit the place to see what, if anything, has changed. It appears that the menu has gone mostly unchanged (as well as the taste of the food in that menu), but one thing that I don't remember from before is the Queso dip, which has some amazing homemade flour chips that put the actual dip to shame.
Additionally, they have quite a few kinks to work out. I've heard stories of running out of food and crazy waits to get a table, but I have a firsthand story to share myself. Grabbing lunch at 2:00 on a weekday, there were only two other tables with customers, yet it took a shockingly long time to get our food. Like 45 minutes long. Considering the food is BBQ based and presumably the majority of the food has been prepared in advance, this was puzzling. Hopefully they will work this out, but it's still worth noting.]