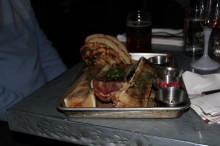 Essentially the day I arrived in Pittsburgh, a buddy of mine told me I had to get to Meat & Potatoes in downtown. With an unvegan name like that, I didn't exactly need convincing. Yet, when I took a look at the menu and prices I quickly realized this was a destination for when parents came to town. After all, that whole being a student thing can make eating out tough. But the parents did come, and to Meat & Potatoes we went.
Having not eaten Bone Marrow since leaving LA, we eagerly ordered some as an appetizer. For an additional appetizer we went with Buttermilk Fried Chicken Livers. Finally, I ordered a little something called the Pub Burger for my main course. Upon looking at our order and the menu, I realized that Meat & Potatoes was a sort of mix between Animal in LA and a gastropub.
To begin, the Bone Marrow blew me away. I had grown so used to being served up a half a bone that the three bone halves served by Meat & Potatoes shocked me. They were served with some grilled bread, gremolata (which sounds much dirtier than it is), onion relish and sea salt. These all came on the side, so I pretty much stuck with the sea salt and bread, which were a very pleasant combo.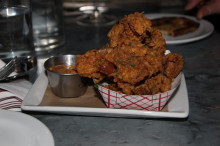 The chicken livers came out looking like any other fried chicken, but hiding inside the crispy outside were something a little different. First I'll start with the breading, which was simply fantastic. It was perfectly crispy and had just the right amount of seasoning. In fact, the livers were pretty good as well. They were gooier than your typical chicken meat and unfortunately went a bit dry when not eaten fast enough. Fortunately, by the time this happened I had moved on to my main meal.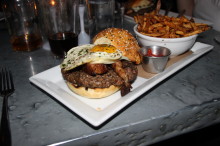 The Pub Burger. Sure, lot's of places have their own, but at Meat & Potatoes the Pub Burger is topped with pork belly pastrami, horseradish cheddar, a fried egg and special sauce. It also came with fries. I ordered medium-rare and was happy to find it prepared how I wanted. As for the toppings, the pork belly pastrami was basically a fancy, THICK cut bacon, the cheddar was tasty and the egg was nice and runny. The special sauce wasn't really special and was probably my least favorite part of the burger, if not meal. One thing to beware of though, is that these patties are hand formed and not exactly well held together. My burger started to fall apart midway through and I would recommend that anyone ordering it in the future cut it in half before devouring.
Meat & Potatoes definitely lived up to the hype. And while the prices were a bit steep for student standards, the value is certainly there with portion size and uniquely delicious flavors.