I don't always go to Pittsburgh's North Side, but when I do, it is for BOGO (buy one get one free) wings. And these wings were at James Street Tavern, a sort of gastropub with a jazzy theme and some actual live jazz music if you show up at the right time. I, of course, did not, but I did show up on Thursday night when the place has those 2-for-1 wings. And we went all-out with the wings, beginning with some Classic Hot Buffalo over there on the left.
These were not bad, but not especially hot or unique in any way. We also snagged some Chipotle BBQ, Parmesan Herb and Habanero Jelly. By far my favorite was the Chipotle BBQ. Like, to the point where I would only order these if I made it back. This is not to say the rest were bad, but they were simply not for me. The Habanero Jelly was also not very hot, the Parmesan Herb was, well, what you'd expect from Parmesan Herb and the Classic Hot was neither very hot nor very flavorful. The Chipotle BBQ, though, had a great flavor and just a touch of heat. More heat would have been nice, but whatevs.
After chowing on all those wings I picked out a burger for my entree called Singing the Blues. This was topped with gorgonzola and bacon, plus some invisible (from the menu) lettuce, tomato and onions. I ordered without those, asked for it medium-rare and upgraded my chips to their White Cheddar Grits. Unfortunately, when I asked for no veggies on my burger, my waitress failed to recognize my hatred for vegetables and the burger (eventually, it actually took quite a while) still came out with a pickle spear. This resulted in the loss of at least one good chip (oh yeah, I was given both chips and grits because at some point a mistake was made), but at least the juices didn't hit the bun.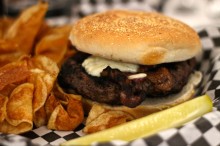 The burger turned out to be pretty good, albeit not quite at medium-rare. It was char-grilled and tasted like a delicious barbecue burger and the cheese and bacon were just right. The White Cheddar Grits were inconsistent, in that I tried a friend of mine's as well as my own and mine were better. Next time, though, I'm worried I could get a bad batch. And while my burger also turned out pretty well, not everyone felt the same. Some people had items missing and whatnot, which I attribute to this being an off-night in the kitchen. Surely the place is capable of success as it was with my burger.
I'd check out James Street Tavern again to ensure that it was just an off-night. But I can say for sure that BOGO wings are a good way to go, although I'm not quite sure I can say the same for medium-rare.