Over in Tyson's Corner, Virginia is a restaurant that loves to rhyme. It's called Chef Geoff's and it's not the only one. In fact, there seem to be Chef Geoffs' all around the DC area. This Chef Geoff's had an interesting menu ranging from Fish Tacos to Madras Curry Chicken. And while this may seem like a huge range, it wasn't such a big menu that it still felt somewhat focused. So, while deciding, I had myself a pint of CG (Chef Geoff's) Northwest Ale, which is brewed locally just for Geoff and his collection of rhyming restaurants.
For my meal, I got the Spaghetti & Meatballs, because they seemed best for my unvegan needs. Composed of veal/pork/beef, the meatballs also had some basil, ricotta and grana padano (whatever that means). And it turned out they were pretty damn tasty. After all, it's hard to go wrong with three meats. The sauce and the noodles were just fine as well, but they took a backseat to them meatballs.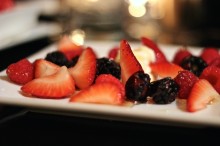 While this was both satisfying and filling, the wife and I decided to split a dessert, but on the light side. We got the Mixed Berries, which came with honey and mascarpone cream. To be honest, the honey wasn't necessary because fruit is already plenty sweet. But nonetheless, the cheese was a good addition, as cheese usually is.
In all, Chef Geoff put together a pretty good meal. Nothing particularly stood out as overly creative, but it was well-executed and seemed to be a nice, reliable spot for a bit of an upscale meal.