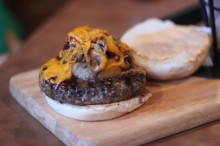 By night, Pittsburgh's South Side is a drunken disaster. But by day, I heard there was good food to be found at a place called The Library or some variation thereof. Every town seems to have a bar called The Library these days, because who doesn't want to say they are heading to the library when they are thirsty for some booze? When our table was ready, we headed upstairs, as The Library was much bigger than it looked on the outside. The walls had assorted bookshelves and the menu items all seemed to be named for some books.
As for my reading, I picked out The Gunslinger from the burger chapter. This was topped with pulled pork, a beer-battered onion ring, cheddar and chipotle aioli. It also came with a side of fries and supposedly no creepy veggies. I ordered it medium-rare and awaited its arrival.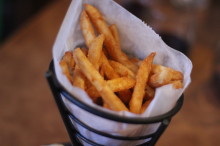 It was nothing short of pretty, aside from giving the appearance of a pre-made patty. Nonetheless, there were no surprises hidden on the cutting board that served as my plate. The burger itself turned out to be pretty good, if not groundbreaking in any way. The fries, though, were better than your average fries. They were cooked to a golden crisp on the outside and soft on the inside with just the right amount of seasoning.
In general, I found The Library to be good for bar food. It's the kind of place you want to go to when you're in need of food and drink, rather than just food, but sometimes that's enough.