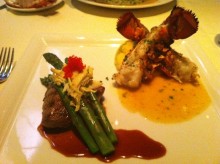 EDIT: This one's gone, but you can still find Roy's and its fancy Hawaiian near you. Depending on where you live, of course.
A steak is not an everyday meal. And even rarer than a steak is a little something called surf and turf. It is only eaten on the rarest and most special of occasions. Or when you have a gift card to Roy's. Roy's is a Hawaiian Fusion restaurant that I once discovered in the desert of Scottsdale, but that was long before unvegan came to be. This time, I went to the Roy's in downtown LA with my lovely girlfriend to pay a visit to my friends, Surf and Turf.
Roy's surf and turf on this evening was a petite filet and two lobster tails. Accompanying these were crab oscar, asparagus and their poblano mash. Only a fraction of these sounded good to me, namely the crab. I asked if there was anything mashed that didn't include peppers and was told there were some regular mashed potatoes I could sub in. I was also told I could replace the asparagus, but before I could choose, the girlfriend said she would take them off my hands, so we asked to have them on her plate. I ordered my steak medium rare and then waited for the glory.
When my dish arrived, I was surprised to find those green asparaguses (asparagi?) staring back at me. While I can't understand why someone would want to eat a food that makes urine smell even worse than usual, I really can't handle being lied to about them being on someone else's plate. I scraped these pee-tainters onto my girlfriend's plate and a few minutes later she was brought additional asparagus on the side for a double dose of terrible-smelling piss.
With these disposed of, I moved onto the real food and what I found was beautiful. The steak, although small, was delicious. Seafood may be their specialty, but they did just fine by that petite filet. Of course, I would have liked it a little bigger, but I can't complain when it's called petite. The lobster tails were especially tasty and came with a spiced butter sauce to make them even tastier. This showed me why their seafood made them so proud. The crab oscar was a nice addition, although so miniscule that I probably wouldn't have missed it if it wasn't there. Finally, there was my substitute mash. It was mashed up good and well, but could have used a little more salt or flavoring to kick it up a notch in taste.
Yet, sides do not make a meal, and the main surf and turf of this meal were quite delicious. I'm pretty sure I missed the whole "Hawaiian Fusion" aspect of the menu, but the surf and turf treated me just fine.