Although LA has a pretty cool Chinatown, it's not really the center of Chinese culture in the area. To got the real experience, you have to take a long ride northeast of the city to the San Gabriel Valley. For some reason, Chinese chose this land to create much more than just a little Chinatown. Driving into it, it almost feels like you teleported to China, as all the signs are written in Chinese and the people almost seem to have made no effort to learn English.
Since I had spent a year living in Shanghai and always missed real Chinese food, one night my friend's family (they are Chinese) took me out to San Gabriel. We went to a Shanghainese restaurant called Wang Jia (yes, there is more than one kind of Chinese restaurant). The place was packed with Chinese people, which is always a good sign. If the waiter spoke any English, he made no note of it.
Then, my friend's mom began to order, all in Chinese. Afterward, I waited nervously, hoping that she had ordered as few vegetables as possible. Soon, there came a seemingly endless swarm of dishes. (Pictures below)
Although there were so many dishes, a few of them stood out a lot more than others. Pictured above is xiao long bao, one of my favorite dishes when I lived in Shanghai. These are dumplings filled with pork, but also sealed off to hold soup. When you bite into them, you have to be extra careful or else you'll spill the soup or end up with a mouthful of soup.
The spicy chicken was also really good. It's actually not a Shanghainese dish, but more indigenous to Sichuan. It is an almost overwhelming amount of hot peppers with chicken bits.
Of interest was the fish head soup, which is a massive bowl of soup containing an entire fish head. And this isn't like the little head of a trout, it is the head of some giant fish that I couldn't hope to name.
There was also so good battered and fried fish, a couple pork dishes, shrimp and a spicy beef soup. Everything tasted just as I was living in Shanghai again. If only I knew how to get back to the restaurant (and speak fluent Shanghainese), I would be sure to pay Wang Jia another visit.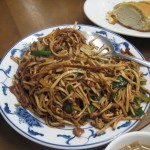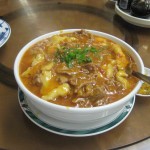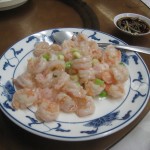 .
.
.
.
.
.
.
.
.
.
.
.
.
Shout out to Fiona and the Chens for taking me to this wonderful place.