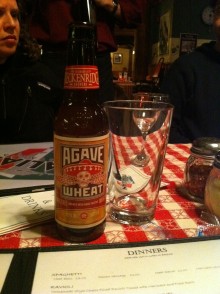 Colorado is definitely a beer state, and not just because Coors comes from the Rocky Mountain State. No, it is also home to New Belgium (of Fat Tire fame) and seemingly countless other micro and craft breweries. While in Breckenridge for a ski weekend, I decided I had to at least try one of these, and because it turned out to be the only one available at dinner, my choice happened to come from the creatively named Breckenridge Brewery. The brewery, by the way, is actually no longer in Breckenridge, having expanded and moved to Denver in 1992.
The only brew available was their Agave Wheat, and while I have been trying to avoid wheat beers, I still wanted this one to keep things local. It came bottled and when I poured it out it looked like your average wheat beer, but I suspected the agave nectar might give it a bit of a honey flavor.
If it did, my beer palette was definitely not refined enough to notice. Instead, I just felt myself drinking a very good wheat beer. While I usually relegate light and slightly sweet wheat beers like this to summer, I was impressed by how refreshing it tasted in the dead of winter. Yet, while satisfying, drinking this beer only made me realize how much I wanted to drink their other beers. I did not get the chance on this trip, but I hope the many beers of Colorado can one day make their way into my belly and blood stream. It may take a while, but Breckenridge Agave Wheat has assured me that it will be worth the journey. To get in contact with Brewskis Beverage >View more here<.