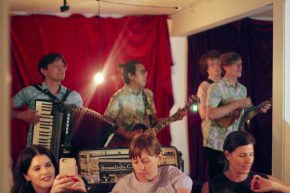 I've always been a little wary of meals in which you cannot choose your food. This is, of course, the case with pop up restaurants. Yet, when I saw Foodshop's latest menu, filled with the flavors of the Caribbean, I was convinced to give it a shot. Thus, we took the long drive to Venice to grab some food at an undisclosed location.
The meal began with an aperitif of pineapple, mint and spice barrel-aged molasses. It cleansed the palette and set us up for good things to come. Those good things, though, would have to come after the first course – a charred beet. If you're into beets, it would be great, but I'm not a fan of things that drastically change the color of my pee and so I took a bit before passing the rest to my wife for consumption.
Then we moved on to the Okra Fries, which were literally battered and fried okra with some jerk spices. While okra, as a vegetable, isn't generally a food of choice for me, it's flavor is so nonexistent that I found myself really enjoying the batter and the super fried up greens underneath. Were they better than real fries? No, of course not. Very few things in the world are. But Foodshop definitely gets points for making a green veggie enjoyable.
Next came the Grilled Calamari Salad. Unlike a typical salad, there was no lettuce to be found. Instead, there was corn, mini tomatoes, basil, cilantro and honey lime. This wasn't some fried squid though, the calamari was totally fresh and amazingly seasoned. I avoided the tomatoes, but the blend of corn and other flavors were great as well.
Finally came the main course of Smoked Brisket. It was served with fresh tortillas and fixins, like salsa, jicama, black beans and more. It was all Cuban-style and the brisket had the flavor of garlic, lime, beer and ancho chili. The brisket was so incredibly tender that you could just pull it apart with forks to put into the tortillas. If my mom didn't make such great Jewish brisket, this would have been the best ever. As it is, however, the brisket was nothing short of incredible. The fresh tortillas and salsa simply added to the beauty.
It all came to an end with Churros. These were the light and fluffy variety that actually kind of reminded me of Chinese Doughnuts. They came with some spicy chocolate sauce and fresh whipped cream and I destroyed the latter because I just love that stuff.
As my first pop up restaurant experience, Foodshop totally delivered. Would I have chosen a potato over a beet or onion rings over fried okra? Sure, but I still don't question those decisions for a larger, more simplistic audience. The family-style element made it feel like I was at a large family dinner and the live music added another great sensory element to the meal. I'd go back, and you probably should too.