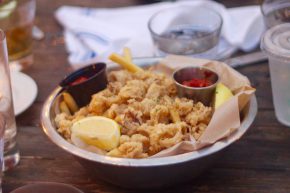 The Malibu Cafe might be one of the coolest places to hang out in LA. The sprawling grounds are like an Anthropologie fan's orgasm, with box lights, upside down umbrellas, giant chess pieces and pillows with words on them. Plus, it's super family friendly. After winning me over at the Burger Battle in Santa Monica earlier this year, I was eager to find out what the restaurant itself would be like.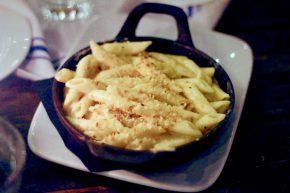 We began with some calamari that was, well, like any other calamari out there. At least that was my opinion as a guy who rarely gets calamari, but definitely knows when calamari is special. So I moved on to the Smoked Mac & Cheese. This was definitely a step up from the calamari, being creamy, crunchy and cheesey. Yet, it still wasn't quite something I was super impressed with. After these two foods, I found myself confused. Their burger had been so damn good, but I was still not floored by what I was eating. That's when I found myself face-to-face with their burger again.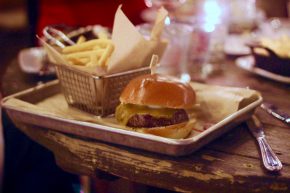 Only this time it was the burger from the regular menu, as opposed to the special I had eaten at the event. This burger came with cheddar, aioli and some veggies that I had no need for, plus a side of fries. I ordered it medium-rare and when it came out it looked shiny and delicious. I bit in and was instantly met with satisfaction. The burger was cooked perfectly and the meat was nicely ground. The cheese and aioli just added to the flavor. Yet, while this was a nicely executed fancy cheeseburger, it still was nowhere as good as the burger from the Burger Battle.
I should also mention that The Malibu Cafe does pretty poorly with service. Everyone that works there is super nice, but obviously spread incredibly thin, resulting in copious delays. It's definitely not a place to visit when you're in a rush. But then, this is Malibu so you should never be in a rush.
Alas, my final thoughts upon leaving were that food is secondary as The Malibu Cafe. It's a place to gather, to hang, to feel hipster and to see beautiful people. The food comes after that and might not blow any minds, but doesn't fully disappoint either.