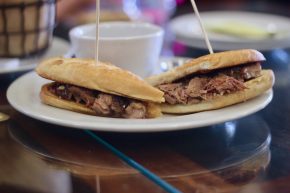 The French Dip is one of food items that is not actually French. You know, like French Fries. In fact, it is originally from LA, with a couple spots claiming to have the original. While French Dips are nothing new to Pasadena, it is definitely new to have a place totally dedicated to those moist sandwiches. That place goes by the name of Harlowe's.
On Sundays Harlowe's does an all-day happy hour, which is awesome. This meant we could order Smokey Deviled Eggs to kick off the meal only $2! So, obviously we did so and while these weren't gimmicky (smokey I guess) or souped up in any way, they were a good way to start off the meal.
The highlight, though, was my French Dip. I went with the Braised Lamb Dip, which should not be confused with the Lamb Dip at Philippe's. This one came with house labneh (Middle-Eastern yogurt) on the side in addition to the lamb jus. The combination of flavors was nothing short of great. I always love me some labneh and it was get to see it applied to a French Dip in such a way. The lamb itself was perfectly tender and flavorful, without the strange semi-metallic but mostly indescribable flavor lamb can often have. Finally, the bread was able to withstand the dips well.
Harlowe's was pretty fantastic in this unvegan's eyes. It's easy to do a pretty good French Dip, but Harlowe's goes above and beyond to make a dip worth returning to.