In this wonderful planet that we live in, there are few greater meccas of meat than Northern Wisconsin. After all, you're not going to survive that winter on lettuce and kale. Yet, while shrines to meat are all over this mecca, the true Kaaba of Northern Wisconsin is Superior Meats. Located in the heart of Superior, Wisconsin, on Tower Street, the place is not in the most ideal location for someone like me looking to grill at Amnicon Falls, but like any meat pilgrimage, the journey to Superior Meats is well-worth it.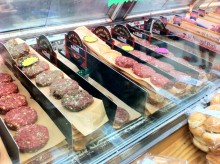 In the world of Michigan that I hail from, you grill hot dogs and hamburgers. In the Southwest, you might throw a little carne asada in the mix. And in Wisconsin, it's all about the bratwurst. Superior Meats is the holy grail of brats. The flavors range from the simply named Beer, to the descriptive Wild Rice Cranberry Turkey, to the curious Sheboygan. But it doesn't stop there. They also pack in crazy burgers with similar ingredients to the brats, amazing beef sticks, multiple varieties of jerky and cheese. Since we were a huge crew of guys with a couple girls sprinkled in, we loaded up on a feast of meats for grilling. Of all we ordered, here is what I remember: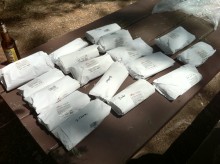 Brats:
Breakfast
Beer
Three Cheese
Packer
Hunter
Philly Cheese Beef
Bacon and Blue Cheese
Burgers:
Philly Cheese
Bacon Cheddar
French Onion
Pepper Jack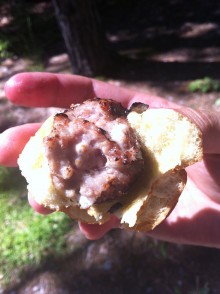 The grand total, including all our fixin's came to a measly 7 bucks per person. When we got to Amnicon Falls to grill, we opened up our spread of meat and witnessed something beautiful. But there was barely time to admire before the grill was fired up and we got to cooking. While the cooking job may not have been the greatest (due to lack of tongs), there was no question that these brats and burgers were some of the best the world had to offer, if not the best. My favorite was the bacon and blue. These tubes were oozing with flavors, snap and an unbeatable touch smoky goodness. After these, I don't know if I can ever eat grocery store bratwurst again. And the burgers, too, were out of this world. Juicy, cheesy and unquestionably delicious, they managed to squeeze awesomeness into every ounce. A lot of places try to pull off the loaded burger patty, but Superior Meats has perfected it.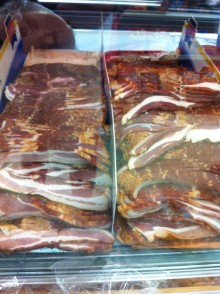 Now the only trouble is figuring out how to live my life without Superior Meats. Southern California is a far cry from Northern Wisconsin and I do my best to live a good unvegan life here, but now that I am back, I am concerned about what to do about grilling. Grocery store-bought burgers and bratwurst simply cannot compare to the glory of Superior Meats and perhaps it is better that way. Such a place would likely go unappreciated in the health-conscious enigma of LA, yet I can't help but think that meats like those of Superior could convince a vegan to slaughter a pig on the spot.
So do yourself a favor…if you are ever within driving distance of Superior Meats, go. You and your stomach will thank me for it for the rest of your life.
Oh and if you know of a greater meat mecca than Northern Wisconsin, please let me know, because when I find myself eating up there it feels as though I've died and gone to meat heaven.