On our way out of an amazing Wisconsin weekend, we made a pit stop at Breakwater Restaurant in Superior. It looked like a local version of Denny's, which was just what we wanted on our way out of the Northwoods. We were quickly seated and since everyone moves a little slow on the morning of July 4th, we weren't waited on quite as fast as we had been seated. But outside of the hustle bustle of LA, we were happy to not be rushed out of breakfast.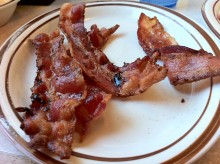 The menu was definitely reminiscent of your average Denny's-style breakfast/brunch, but with the Northwoods addition of at least one Lumberjack reference. Cue the Logger Lover here.
I went for the Corned Beef Hash. This was served with a choice of toast, muffin or pancakes. Most people would opt for the cakes, but I chose sourdough bread instead. I'm not like most people. I got my eggs over easy to complete the lyrics of the Dick Siegel song, "Angelo's." When the meal came, it looked tasty and I dug in with gusto. I found some perfectly salted corned beef hash, but they would become even better when I cracked open my eggs to let the yolk run through. Both the hash browns and beef had been sort of cubed, which gave them an interesting and delicious texture. The egg/corned beef hash combo served me well. The toast was a nice addition and had that extra touch of being pre-buttered. It didn't have much of a sourdough flavor, but I wasn't exactly expecting some sort of artisan bread.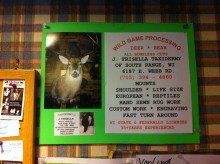 To make my meal even meatier, I added a side of bacon to the mix. This was a nicely crisped breakfast side that made me sad to soon be departing the land of meat and cheese.
In the end, Breakwater served a pretty good meal. It was nothing groundbreaking, but with a name like Breakwater, that would be way too ironic. It was a good and reliable, which is sometimes all you need out of breakfast.
Oh, and they get bonus points for the taxidermy poster at the entrance.