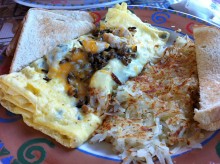 In the meaty heaven of Northern Wisconsin, even I was amazed to find the following on a menu: "Light Portion 1/3 lb Hamburger Steak Dinner with grilled onions, mashed potatoes and gravy." And where did such a light meal find itself? None other than Twin Gables in Brule, Wisconsin. This light meal quickly explained why they wouldn't serve an egg white omelet to my girlfriend while simultaneously letting me know that anything I ordered was going to be goddamn amazing.
But I did not order that hamburger steak, nor, as much as I would have liked to, did I order "Hugs from Gail" (listed on the menu as "Priceless"). Instead I ordered something quintessentially Wisconsin, The Wild Omelet. Composed of chicken and cheese, it also contained something found at every shop in Northern Wisconsin: Wild Rice. It came with hash browns and toast as well.
Now before I get to the food, I feel it is my duty to inform the reader that although Brule may seem like the middle of nowhere, it is actually an area well known for more than a few of our past US Presidents. Grant, Cleveland, Coolidge, Hoover and Eisenhower all spent some time on the Brule River, with Coolidge even becoming quite the fly fisherman. But enough about history, back to my omelet.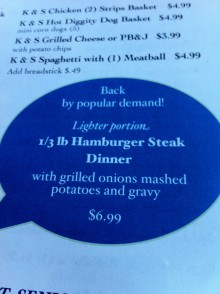 And what an omelet it was. Stuffed with delicious chicken and wild rice, the only complaint I could conceive of was that it could have used a bit more cheese. But this is a small complaint. Seriously, because the great flavor and chewy texture of the wild rice really made this omelet an awesome and totally unique meal. The hash browns and toast were simple and tasty, but the inclusion of wild rice in an omelet was quite awesome.
Plus, no review of Twin Gables would be complete without mentioning our amazing waitress. We knew her name wasn't Gail because another table sang "Happy Birthday" to her, so we didn't ask for a hug. But even without a hug, her friendliness was exactly what you would hope to find anywhere in the world, and something that you pretty much expect to find in a place like Brule.