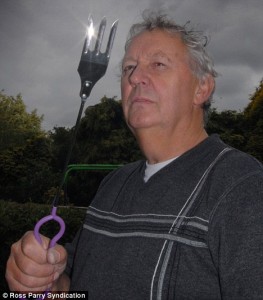 The American Independence Day is just around the corner, which usually means a weekend of fireworks, BBQs and patriotism. For an unlucky UK man, a recent BBQ traded in fireworks for lightning bolts.
Eric Brocklebank was innocently cooking some sausages when lightning decided to make a rapid pass through his body via a BBQ fork. Miraculously, he survived and had only one thing on his mind: sausages. According to Brocklebank, "I was told the only thing I could say as I was drifting in and out of consciousness was 'sausages.'"
No, his life wasn't flashing before his eyes, he didn't call for help, he just kept his mind on the meat at hand.
For turning an unlucky and potentially deadly situation into a plug for sausages, Eric Brocklebank, you are a true Unvegan Hero!
(via geekologie.com)
Thanks to Sean for enlightening me to the existence of this story.