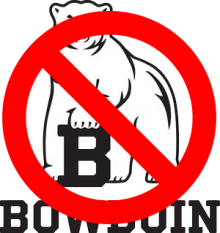 When you look into where to get your college education, do you think about athletics? How about graduation rates? Quality of professors? Sure, all of those things are important, but what about food? Most likely it isn't too important, but if you are looking to go to Bowdoin, it's definitely something to consider.
You see, Bowdoin has instated something called Meatless Mondays, in which college cafeterias have removed meat from their Monday menus. This has certainly sparked controversy for many reasons. First of all, why would anyone not want to eat meat? Second is that this is an initiative by a small minority of people in the college. I don't support being vegetarian, but even worse is having the audacity to force other people to eat like you.
While many students and I are upset about this, you know who is the most upset? Their goddamn mascot. Yeah, that's right, Bowdoin's mascot is none other than a polar bear. And what is one thing that makes the polar bear special? Oh nothing short of being the LARGEST LAND CARNIVORE ON THE PLANET.
But the students aren't standing idly by and shoving kale down their throats. They have taken action by skipping out on dinner and heading out to get some real food at places like "Jack Magee's Pub, which featured an egg and bacon-topped cheeseburger as its Monday special…" Others had barbecues, chomped down on KFC or even arranged an event to sell burgers to raise money for an animal shelter.
It's comforting to know that in the face of Meatless Monday fanatics, the principals of democracy stood above it all by encouraging people to value their meat and do what they could to truly make a difference in this crazy world of ours.
(via The Bowdoin Orient)