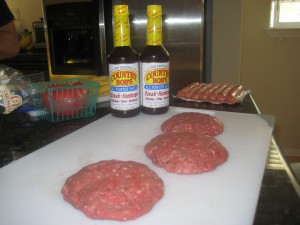 A few weeks ago I was contacted by Country Bob's, Inc., a little company looking to get the word out on their sauce, Country Bob's All-Purpose Sauce. They loved my blog (obviously) and wanted to send me some free sauce to write about. Being a shameless sell-out, I jumped at the offer.
I researched the company a bit (ie. checked the website) and found that Country Bob gave a whole lot of credit for his success to God. Hey, if athletes can do it, why not sauce-makers? I also found on the website that Christ himself had risen through the ranks of Country Bob's to become CEO. I'm not sure if he usurped the title from Country Bob himself, but Bob seemed to have no problem putting "Christ is our CEO" on the website.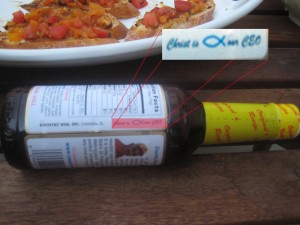 After about a week, my package of sauces came in the mail. I decided a Labor Day BBQ would be the perfect chance to test out the sauce and to get a range of opinions, specifically from my Jewish friends. To complete the holy trinity of monotheistic religions present at the meal, I picked up some Halal ground beef to make burger patties.
After a few minutes of grilling, the tasting was ready to begin. I opened up a bottle and poured it onto my plate. It was runnier than the average BBQ sauce, but had a higher viscosity than your typical steak sauce. I dipped my burger in it for the first taste, slightly fearful that the presence of Christ would burn my Jewish mouth. Fortunately for Country Bob, Christ and myself, the sauce did not burn. In fact, it was pretty tasty. I found it to be a bit on the sweet side, to the point where it probably would have been better on some chicken. But I still opened up my burger and dumped it on as my condiment du jour.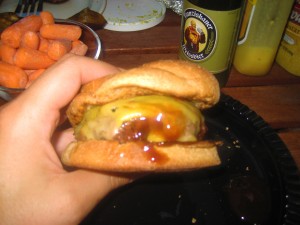 As my companions around the table tried out the sauce, I gathered some insightful comments.
Alyson, a 27-year old Jew working in the insurance business said, "I like Bob, it makes me think twice about Christ."
Danny, a 24-year old Jew working in talent management said, "Tangy. Maybe too tangy."
Sarah, a 29-year old Jew working in catering was overheard saying, "Can you please pass the Christ sauce? It's really good."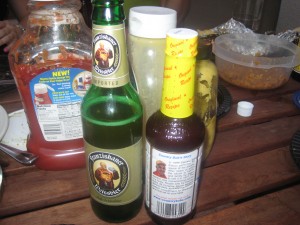 Overall, that's a pretty positive judgment. Usually BBQ sauce is my top condiment for a cook-out, but Country Bob's is not a shabby substitute if I'm in the mood for something sweeter.I know Country Bob would have been especially proud to know he had been paired up with the friendly monk on the Franziskaner Beer label.