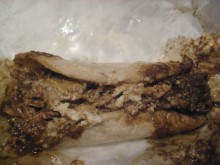 Just recently, West Hollywood's Pinches Tacos branched out to Culver City and my buddy, Waldo, decided we had to try it out. I didn't really know anything about the original place, but I figured it had to be good enough to build a second location. Since he was picking up, I checked out the menu online and found two tasty-looking tacos. The first was Pollo Mole and the second was Carne Asada. The menu was pretty vague about what came in each, so asked Waldo to order them without vegetables. He is a firm supporter of the unvegan way, so he was happy to get them ordered correctly.
When he brought them over, I found that the tacos had been rolled up into nice little bundles just waiting to be unwrapped. The first one I opened up was the Pollo Mole. It had been prepared just the way I like it, without a vegetable in sight. The chicken was shredded and the mole sauce was all over the place. The sauce turned out to be pretty good, too. It's not easy to make a good mole, but Pinches was able to pull it off. After tackling that little beast, I unwrapped the Carne Asada and stared in disbelief at the onions that were tainting my taco. Waldo assured me that he had ordered it without those vile vegetables, and I had no choice but to believe him.
It took me awhile to brush all the onions away, and when I was done, I had a passable carne asada taco. It was good, but it had taken too much work to make it that way. I hoped that the onions were just a bit of a kink since they had recently opened, but putting onions in a taco should never be tolerated. It's unfortunate, too, because without those onions, Pinches Tacos could have been great.